LATEST NEWS
CONTACT US
ADD: Jingjiang City,Jiangsu Province,China
TEL: +86-18994703330
FAX: 86 523 84850330
E-mail: lulu@cnapec.com

> CNC METAL SPINNING MACHINE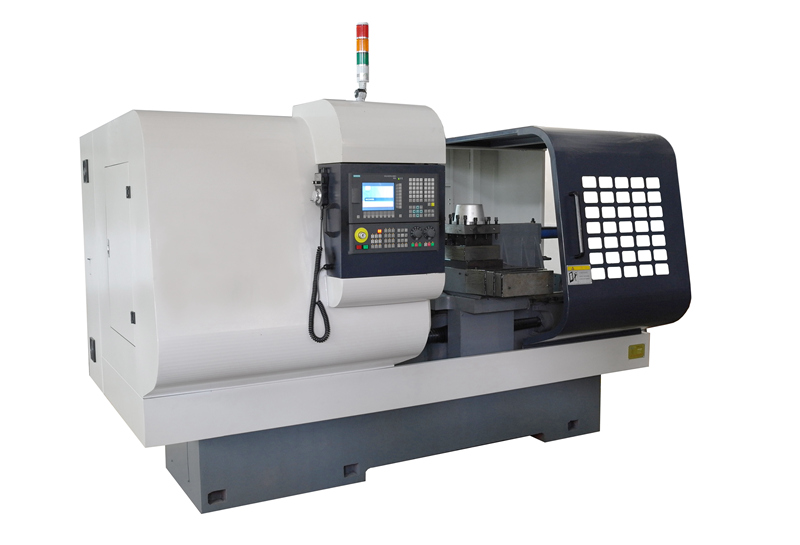 APEC CNC METAL SPINNING MACHINE-SINGLE ROLLER
PRODUCT INTRODUCTION
CNC Metal Spinning Machine APEC-SR series
Purpose of Machine Tool:
APEC-SR series CNC Spinning Machine (single roller) is especially developed to spin lamps, ventilations,art wares, kitchenwares and auto fittings. It has many patents issued by the State Intellectual Property Office. This machine is practical, professional and strong. It has high production efficiency and can complete horn, bucket, cone type, parabolic products. It can also process threading, trimming, flanging and rolling at the same machine tool. The machine can spin many materials such as steel, alloy and copper etc. It has solved the traditional problems such as lack of skilled workers. With advanced digital control, it is easy to operate. The machine can improve the production efficiency, machining accuracy and saving the cost of human resources. It is the ideal processing machine for light, automobile, military, mechanic and other manufacturing industries.
Standard Configurations & Main Features:
GSK 980TDc as standard CNC system which has USB port.
Meehanite cast iron after aging treatment, with high quality and less deformation.
Adopted independent spindle unit to ensure good movement precision, stiffness and stability.
Precision ball screws ensure dynamic performance well and positioning accurately.
Feeding axles are controlled by servo motors.
Spindle motor is Servo controlled.
Pneumatic tailstock.
Integrated automatic lubrication system makes the maintenance more reliable.
Configuration cooling pump.
Mobile manual pulse generator makes easy to operate.
Semi-enclosed shield.
Optional Accessories (Extra Price):
◇ NC system such as FANUC,SIEMENS,GSK or KND is available for your selection.
◇ Hydraulic tailstock.
Model

APEC-SR300

APEC-SR500

Amount of Rollers

1+

1+

Max. Diameter of Material

Ø300 mm

Ø500 mm

Max. Swing Over Slide

<Ø300 mm

<Ø500 mm

Max. Length of Work Piece

200 mm

300 mm

Thickness of Work Piece

0.5-3.0 mm (Aluminum, Copper)

0.5-2.2 mm (Carbon Steel)

0.5-2.0 mm (Stainless Steel)

0.5-4.0 mm (Aluminum, Copper)

0.5-3.2 mm (Carbon Steel)

0.5-2.0 mm (Stainless Steel)

X Travel

300 mm

300 mm

Z Travel

220 mm

320 mm

Pushing Force for X Axis

30 kN

30 kN

Pushing Force for Z Axis

30 kN

30 kN

Pushing Force of Tailstock

20 kN

20 kN

Guide Rail Type

Linear Guide Rail

Linear Guide Rail

Width of Bed

320 mm

320 mm

Rapid Traverse X/Z

12/16 m/min

12/16 m/min

Servo Power X/Z

6/7.5 N.m

7.5/10 N.m

Pulse Equivalent X/Z

0.001 mm

0.001 mm

Positioning Accuracy

0.015 mm

0.010 mm

Repetitive Positioning Accuracy

0.006 mm

0.006 mm

Spindle Nose

C6

C6

Taper of Spindle Bore

MT6

MT6

Spindle Bore

Ø52 mm

Ø52 mm

Spindle Speed

3000 rpm

2500 rpm

Taper of Tailstock Quill

MT5

MT5

Travel of Tailstock

250 mm

250 mm

Travel of Tailstock Quill

200 mm

200 mm

Diameter of Tailstock Quill

Ø82 mm

Ø82 mm

Amount of Tools / Shank Size

6 / 25×25 mm2

6 / 25×25 mm2

Spindle Motor Power

5.5 kw

7.5 kw

Machining Accuracy

It 6

It 6

Surface Roughness

Ra 1.25

Ra 1.25

Overall Dimensions

2.3×1.3×1.6 m3

2.5×1.3×1.6 m3

Net Weight

2000 kg

2500 kg
Products Our machine can do:

---

---

---

---